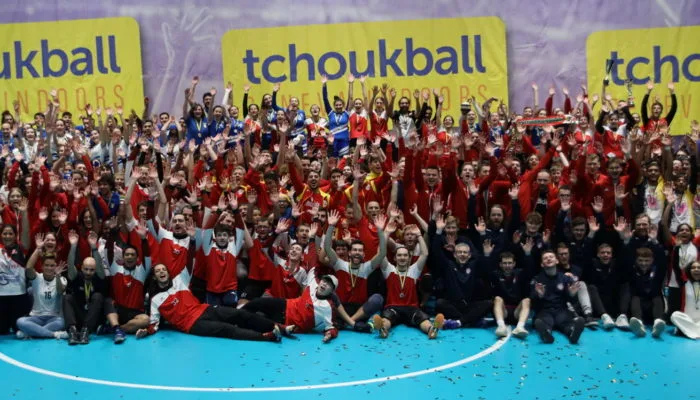 The largest edition of the Tchoukball Geneva Indoors ever organised!
More than 2'500 players from 9 counties played 1'665 matchs in 11 days of competition!
The extend of the success of this 25th edition surprised us all a bit!
After 2 years of absence for some due to the health crisis, the tchoukball player in Switzerland and around the world have once again shown us how much they are attached to this event and all that this competition represents for them!
More than 2,500 players of all ages, 11 days of non-stop competition, 1'665 matches, 384 teams including 21 national teams, in all more than 5'000 visitors to the Queue d'Arve sports center, tens of thousands of views on Youtube, an even bigger international live broadcast of the Nations Cup finals, tens of thousands of interactions on social media, nearly 50'000 visits to our website in one month, nearly 200'000 in one year, etc. The Tchoukball Geneva Indoors has this year already taken on a much larger dimension than we could imagine and we are delighted!
The Tchoukball Geneva Indoors once again confirms their place as the biggest tchoukball competition in the world. It is always a pleasure for us to welcome so many tchoukball fans to Geneva, the city where this sport was created a little over 50 years ago!
Beyond these figures, what will remain of this edition is also all the extraordinary emotions experienced during this 25th edition, from the contagious enthusiasm of the juniors to the tremendous intensity of the Nations Cup final matches!
A big congratulations to the women's and men's national teams of Italy and Switzerland who offered us beautiful Nations Cup finals with improbable turnarounds and a tchoukball played at the highest level in the world!! A big thank you to all the teams from Geneva, Switzerland, Europe, Asia and Africa who took part in these 21 tournaments and thanks to whom this 25th edition was such a success!
You will find in this website a lot of information, photos and videos to allow you to see or see again a part of the emotions of these 11 crazy days!
I send you all my best wishes for 2023!
Kind regards,
Daniel Buschbeck
President Organisation committee
Tchoukball Geneva Indoors