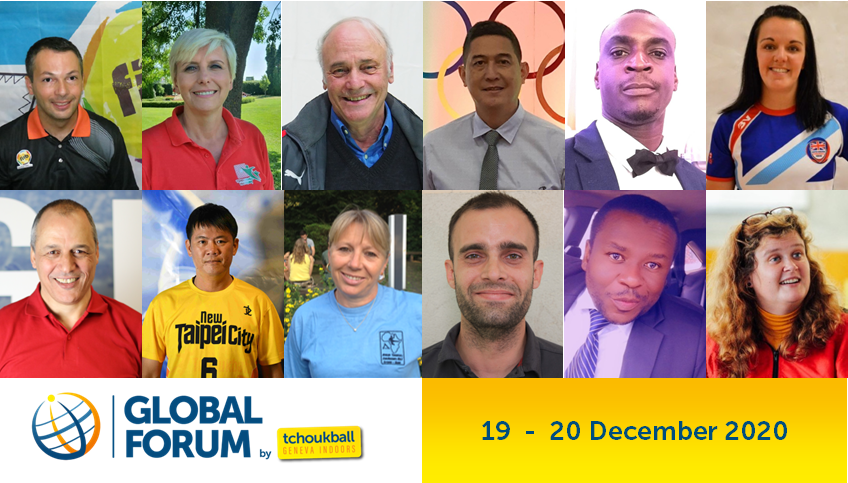 All speakers are now confirmed and announced!
The Global Tchoukball Forum will go live tomorrow Saturday 19th December at 14.00 CET. The production team is already on site in the TV studio preparing and testing.
And we are proud to be able to present a floor of fantastic people from all around the tchoukball planet. They are all expert in their field and passionate about what they are doing. So don't miss on the opportunity to discover tchoukball as you have never seen it before!
On Saturday 19th December we will have following topics:
Julio Calegari, FITB:  A captivating, rewarding and unforgettable life experience with the "Volunteer coach program in Africa".
Anita Kunos, Hungary: Inclusive tchoukball: Discover the special way we play in Hungary.
Michel Favre, Switzerland: My meeting with Dr. Hermann Brandt in 1968.
Raymund Jamelo, Philippines: Connectedness in the midst of a pandemic.
Dazy Kouassi, Ivory Coast: Teaching tchoukball culture in schools for a sustainable development.
Janine Norman, United Kingdom: After the organiation of more than 125 courses for over 2000 participants,Tchoukball UK now starts with online teaching.
On Sunday 20th December the topics will be:
Nooman El Gabsi, Tunisia:  The keys of the extraordinary development of tchoukball in Tunisia.
Erika Mesmer, Switzerland: The joy of playing tchoukball has no age limit.
Jean-Francis Gawade, Cameroon: From wooden frames to the world championships.
Victor Vanderf, France: Use tchoukball to promote social, environmental and cultural aspects.
Chiara Volonté, Italy: Progress of the wheelchair tchoukball project.
Coach Fang, Taiwan: How to create the strongest tchoukball team ever.