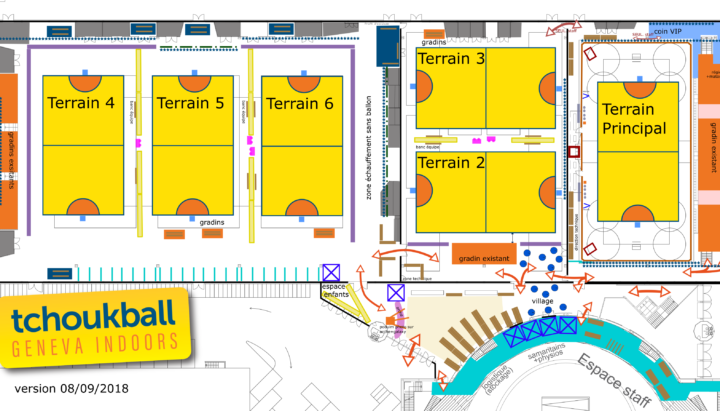 New central court and more fields
2017 the Tchoukball Geneva Indoors moved to the Centre sportif de la Queue d'Arve and made a huge step forwards. In December 2018 we are again making a leap forward! We are transforming the Queue d'Arve in order to suit it even more our needs: we will have a new location within the sports centre for an amazing central court, decorated to make it really an event arena.
Next to the central court, we will have 2 more playing fields than last year, now totalling 5 fiels + 1 main field. Needless to say that we have space for many, many games in the same location, which is a plus for players, spectators and staff!
We would like to thank the sports section of the city of Geneva, who are helping us and without whom the Tchoukball Geneva Indoors would not be able to be what it has become.
Curious to experience yourself the Tchoukball Geneva Indoors? Registration deadline for the Nations Cup is September 30th, 2018, October 31st 2018 for all other tournaments. All information about registration is available on the registration page.